Service Spotlight: Graphic Design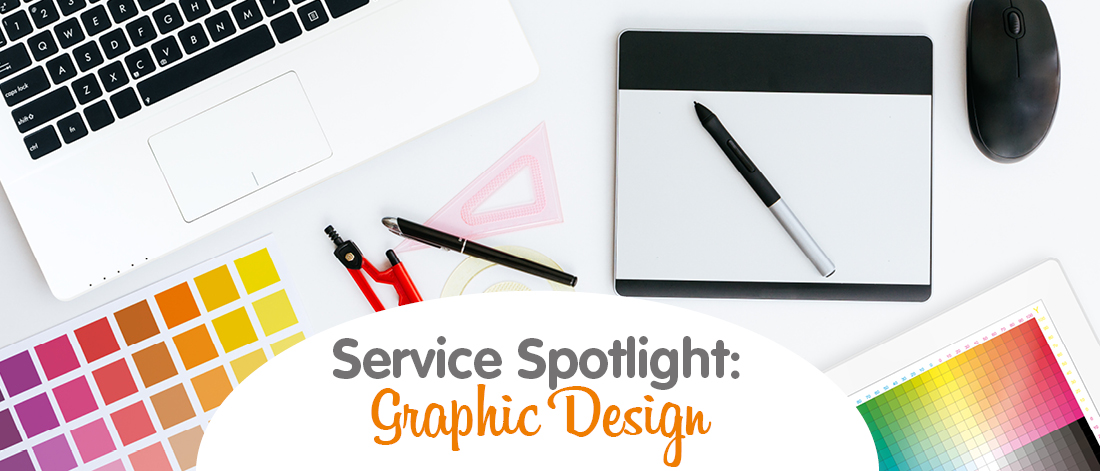 Get Ahead VA offers a wide range of business and marketing services. In our Service Spotlight, we take a closer look at one of these and show you how our virtual assistants can help you and your business. This month, we're looking at graphic design.
What is graphic design?
Graphic design is the art of creating visual content for a wide range of purposes, such as marketing, communication and branding. Graphic designers apply their skills to all sorts of different media – from websites to magazines, leaflets to logos – in order to catch an audience's attention and convey a message. In this way, graphic design is hugely important for business owners – no brand, marketing campaign or company website is complete without graphic design.
What do we offer?
At Get Ahead VA, we have a number of professional graphic designers in our team, ready to work with you whenever you need them. You simply tell us what you're looking for – whether that's adapting something you already have or creating something new – and our designers will get to work. We can take on any design job, including:
Stationery design
Business cards
Newsletters, brochures, leaflets and posters
Branding and logo design
Publicity literature
Exhibition materials
Signage
Promotional items
Company reports
Your designer will give you regular updates about the project, and we can also put you in touch with local printers to turn your designs into tangible products. We're always happy to listen to feedback and adapt our work to your needs, because we want to ensure the designs we create are exactly what you're looking for.
How will this benefit you?
Good design is key to building a strong brand. It can give your business a clear, coherent identity across multiple platforms, engage your audience and make you stand out from the crowd. It can also catch your audience's attention and keep hold of it over time – adding an image to your message can help people to remember the information up to three days later.* Of course, all of these things are hugely beneficial for any business wanting to get noticed and be remembered in a busy marketplace.
Graphic design can also boost your business' image. Research has shown that having a strong design can make your company seem bigger and more appealing, and this extra attractiveness can translate into more credibility and more sales. The power of graphic design is undeniable, and Get Ahead VA is here to help turn your design dreams into reality.
---
Would you like to talk to us about your graphic design needs? We'd love to chat with you and find out exactly how we can help, so please give Get Ahead VA a call on 01483 332220 or email us at office@getaheadva.com. We pride ourselves on being the staff you don't see, but the difference you do.
* https://blog.red-website-design.co.uk/2018/06/04/graphic-design-stats-infographic/
Find out more about our services or call 01483 332 220 to discuss in more detail.
---
---