Outsourced services – a great resource for coaches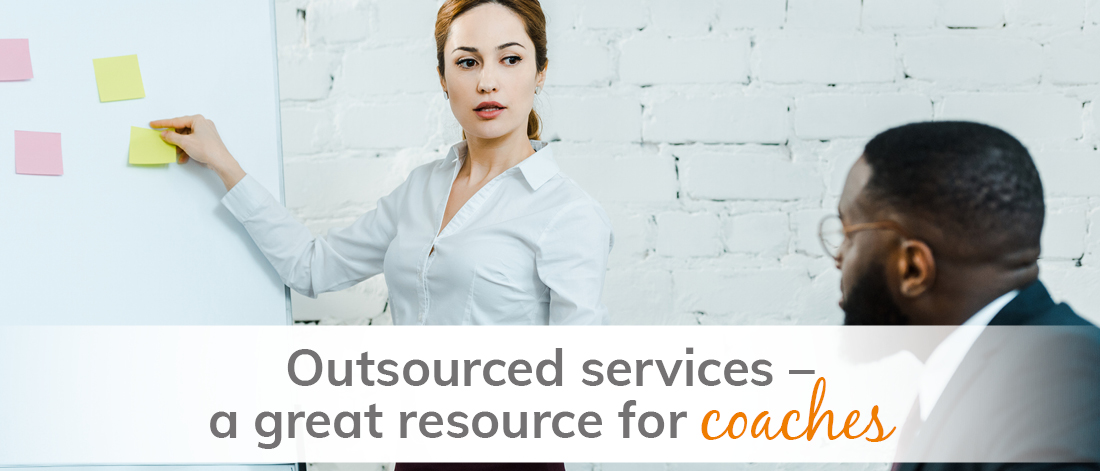 Get Ahead has been supporting coaches for almost as long as we've been in business. Some of our most successful working relationships have been with life coaches, business coaches and personal branding experts.
In this blog, we look at why outsourcing is a great solution for coaches.
Why is Get Ahead a valuable resource for coaches?
Coaches, like other business owners, usually have a long to-do list. In addition to working with clients to help them find their strengths, we know that coaches also have to market their businesses, stay on top of invoicing, create resources, keep up with the filing and more.
If you're a coach, a challenge you might face is that fact that you don't do your core work from a desk. When you're coaching someone, you're giving them 100% of your attention, often for a few hours and sometimes for a whole day. But if you're delivering coaching at a client's office from nine to five, when are you going to do your admin?
Fortunately, when you outsource your admin, marketing or anything else to Get Ahead, you can leave it all to us. You can give your clients your full attention, confident that your social media marketing is rolling out steadily, and knowing you have time blocked off in your diary to devote to invoicing. Instead of breaking off coaching to, say, create an ebook, you can outsource it to our writers, designers and editors and get back to what you do best.
The other reason why Get Ahead is a great resource for coaches is that we have a fantastic network of local business owners. Because of the work we do, we necessarily connect with other businesses – if there are any weaknesses, they tend to show up quite quickly! This means that clients sometimes ask us if we can recommend a business coach, and we love being able to recommend someone from our own network.
Why are coaches among Get Ahead's ideal clients?
Of course, we have fantastic clients from lots of different sectors, but we're always delighted when we're contacted by a life coach or business coach who is looking to outsource. If you're a coach, your business is a little like ours – we are both B2B businesses to whom clients outsource. This means you understand the outsourcing model which in turn makes onboarding more efficient.
You also know what is required to run a business, which is why you coach your own clients so successfully. This makes it easier for us to deliver high-quality work – you know what to expect and can clearly see how the work we deliver supports your business goals.
Get in touch to find out how we can support you
Get Ahead has supported coaches in many different ways. Some have simply needed us to help them stay organised; others have used our virtual experts to deliver specific projects. To find out more how we can support your coaching business, get in touch today on 01483 332 220.
PS – read about how we supported our coaching client Desiree here!
Find out more about our services or call 01483 332 220 to discuss in more detail.
---
---