Outsource graphic design to get the best results for your business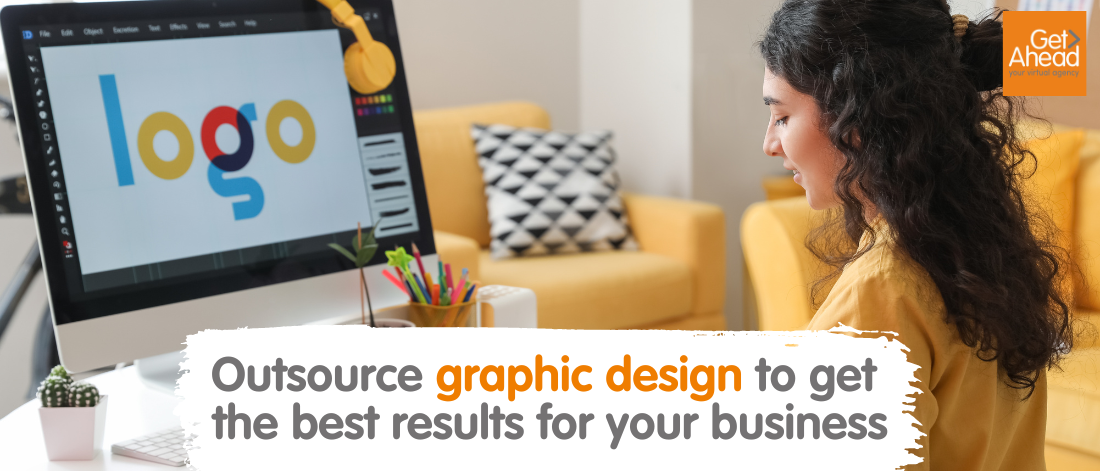 Outsource graphic design for fantastic results to convert your customers. Statistics vary, but all conclude that we process visual information incredibly quickly. This means that, when we visit a website or read a printed flyer, we make the decision about that business in a matter of seconds.
For this reason, it's really important that our graphic design is as great as our business. In this blog, we look at the five main reasons you should outsource graphic design.
High quality work
Graphic designers create stunning artwork for clients every day. They're always in creative mode and have high-powered, graphics-friendly tech at their fingertips. And if they work for Get Ahead, they'll have at least three years' experience to draw on too. This means that when you outsource graphic design to them, they can produce the outstanding work your business deserves.
Powerful visuals to drive conversions
Experienced graphic designers know the importance of creating visuals that reflect your business and tell its story. They understand how graphics work on a subconscious level, like the significance of different colours and subtle differences between photographs. Of course, you want your website to look appealing and professional, but a good graphic designer can create visuals that work on a deeper level too.
Speed
If you do your own graphic design, it probably isn't part of your usual working day. Even if you enjoy it, you won't do it as quickly as someone who does it on a daily basis. But when you outsource graphic design, you'll know it will be completed in a faster time frame than you could achieve yourself.
Correct file sharing
Outsourcing is always better value when it's sustainable. When you outsource graphic design, you can expect to receive the designs in the right file format for future use. This means that it's really easy to commission future marketing collateral, like printing your logo onto promotional items. If you've ever needed a new website but don't have your logo saved in a digital format, you'll know what we mean! Fortunately, with the correct file format, it's easier to repurpose photos and layouts, saving you money in the future.
One less thing on your to-do list
We know what it's like to be a busy business owner – there are so many plates to spin! Fortunately, outsourcing graphic design means that you don't have to do it all yourself. Pass it on to one of our virtual experts and gain some time back for running your business.
Outsource graphic design to Get Ahead
All our graphic designers are experts in their fields with strong track records of producing outstanding work. If you need graphic design support, we'll find the right virtual expert for your business – someone with the right personality too! Contact us to find out more – we'd love to hear from you.
Find out more about our services or call 01483 332 220 to discuss in more detail.
---
---