National Work/Life Week – are you taking part?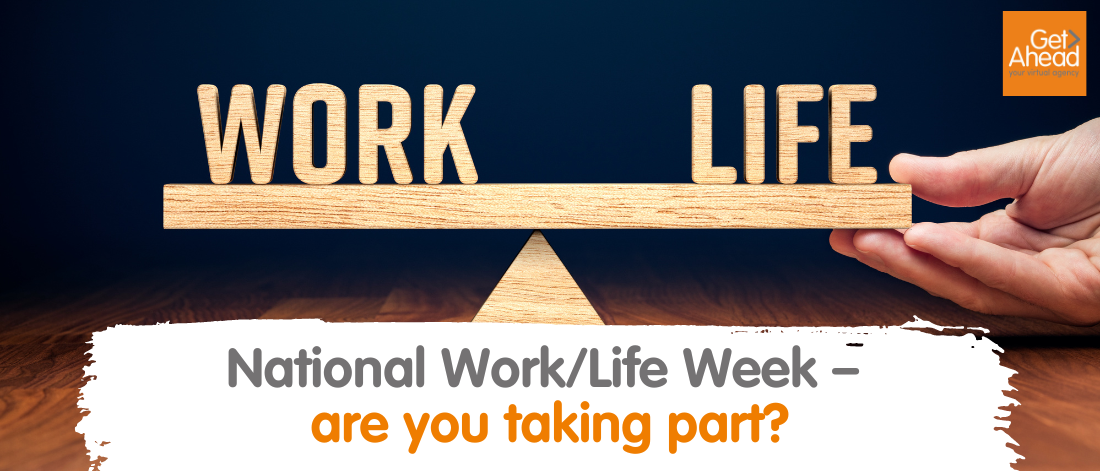 Get Ahead's business model helps our team and clients find a healthier work-life balance. We believe in flexibility – we've seen time and again that it translates into better productivity and better mental health. We were delighted to hear that the organisation Working Families is holding its annual National Work/Life Week from 10th-14th October 2022.
This year, the emphasis is on increasing access to flexible working, and finding the flex in every role. Let's take a closer look.
What is National Work/Life Week?
National Work/Life Week is an annual event organised by Working Families. It's a campaign to get both employers and employees talking about wellbeing at work and work-life balance. Employers can use the week to provide activities for staff, and to showcase their flexible working policies and practices. They can also build up their wellbeing knowledge by downloading the free resources and taking part in the online webinars and lunch and learn sessions.
Working Families are encouraging participants to use the hashtag #WorkLifeWeek on social media to join in online conversations about the relevant issues.
Most importantly, there are many practical elements to Work/Life Week too. This year's event is all about making flexible working available to more people who need it. That's why Working Families have arranged webinars on issues like flexible working for fathers, and how small businesses can build more flexibility into the way they operate.
Working Families has also produced a toolkit for employers, with ideas for improving employees' work/life balance and building more flexibility into working practices. You can download your copy here.
Why have a work-life awareness week?
Work-life balance is something we all know we have to improve, but very few of us take any steps towards it. Understandably, business owners tend to educate themselves about bookkeeping, marketing and how to use a spreadsheet. Unfortunately, this can mean they spend less time building wellbeing into their business.
But wellbeing at work is more important now than ever. As national events lurch from crisis to crisis, every one of us is under more pressure to hold onto our jobs and our businesses, spending carefully and staying within budget. With this kind of pressure, it's easy to lose sight of what we're working for. It's also easy to sweep away the idea of flexibility with the words, "we can't afford it." But Working Families have lots of ideas for finding flexibility within your existing structure, and making it accessible to more sectors. Work/Life Week is an opportunity for change.
How can businesses get involved?
Business owners can get involved by not just downloading the toolkit but also using it! The webinars are free to attend, and Working Families have kindly made last year's available for reference too.
Remember to add the week-long event to your social media planner. If you regularly organise an activity for staff wellbeing, such as a weekly walk, Working Families would love to hear about it – put it on social media and use the hashtag #worklifeweek.
Get Ahead with flexible working for all
Our business has thrived on flexibility since 2010. We've helped business owners find the work-life balance they were looking for, through the high standards of our flexible team of remote workers. To find out more about our approach, why not explore our site? We hope you'll sign up to Work/Life Week too and support an initiative that could bring about the change UK workplaces need.
Find out more about our services or call 01483 332 220 to discuss in more detail.
---
---