Ideas for virtual Christmas parties (and Zoom support from us!)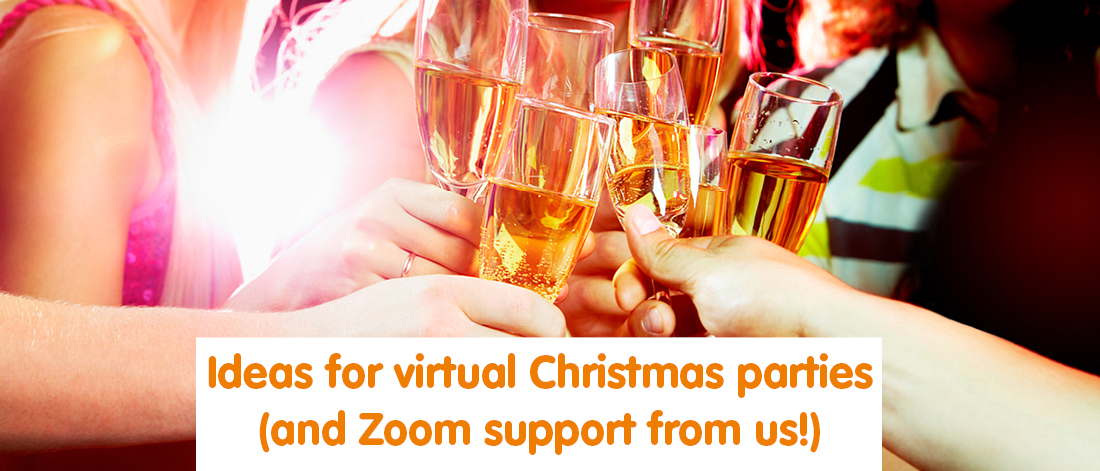 In any other year, businesses would have booked their Christmas party back in August or so – big room, catering of some sort, maybe a magician visiting your table doing some close up magic. If you were really (un)lucky, someone might even have hired a karaoke machine.
But this year, it will all be different. Lockdown didn't just introduce new restrictions; it introduced a new way of working. So many businesses have noticed how much easier remote working is that it's looking like it's here to stay, even when restrictions are finally over. What's certain is that we'll be having our works Christmas parties remotely, and we're proud to report that our VAs with Zoom expertise are already receiving bookings to provide tech support during the virtual party season.
Here are some ideas for virtual Christmas parties!
1. Food and drink
Decide whether you're going to be having a meal together or just a few drinks. Tell everyone in advance so they can plan accordingly.
There's lots of scope here for making the food the central, interactive part of the event. DIY ideas include everyone eating the same cuisine, or swapping recipes, then trying each other's favourites and talking about the food together. You could take a lead from a TV cookery show, sending each team member the same ingredients and seeing what they concoct, or doing a Bake Off-style technical challenge.
Depending on your budget, you might prefer to book a food or wine expert to take you on a tasting journey. There are some exciting packages out there, with samples of the food and drink delivered directly to your team members so you can all taste together with the guidance of an expert. Some include tours of vineyards or the city where the food traditionally comes from.
2. Secret Santa
Opening presents, however small, always feels festive. If you're not familiar with the concept, Secret Santa is when each team member buys a present for another, randomly assigned team member. The idea is that you never officially know who has given you a present, but it's good fun to try and guess! It's also good for team bonding – do you know your head of finance well enough that you could buy them a present they'd cherish?
The traditional random-recipient-generator (names in a hat) is, of course, out. Fortunately, Secret Santa apps are now available for download and even include wish lists.
The gifts can be posted and remain unopened until the virtual party. Then you can all open them together on Zoom and feel very, very Christmassy.
3. Games
Lots of us having been joining in with virtual quizzes during the pandemic, but some entertainers are taking them to a new level. Escape rooms, Dragon's Den, whodunnits and more are all available to pre-book online, priced per person and including any props or clues to be sent to players in advance.
Budget versions include scavenger hunts (turn the house upside down without letting the kids see the Christmas presents), Pictionary (use the app to generate subjects) and off-the-cuff craft projects (start saving egg boxes now).
4. A virtual night out
Show your support for theatre companies and have a great night in at the same time. Many theatre companies are sharing performances online – you can all watch it "together," then have a drink and a laugh on Zoom afterwards. Our local professional theatre company, the Guildford Fringe, is making both its family and adults-only pantomimes available online for private party bookings, as well as professional online comedy nights. To find out more or to make bookings, contact Nick Wyschna on info@guildfordfringe.com
Outsource your Zoom support
You deserve to be part of your Christmas party, and not just as the event manager. That's where Get Ahead VA come in. Our Zoom experts are here to keep your virtual event running smoothly, sending invitations and collating postal addresses for any deliveries, right through to keeping the tech running as it should during the party. Visit our Zoom services page here for more information, or give us a call today on 01483 332 220.
Find out more about our services or call 01483 332 220 to discuss in more detail.
---
---