How to set up a Webinar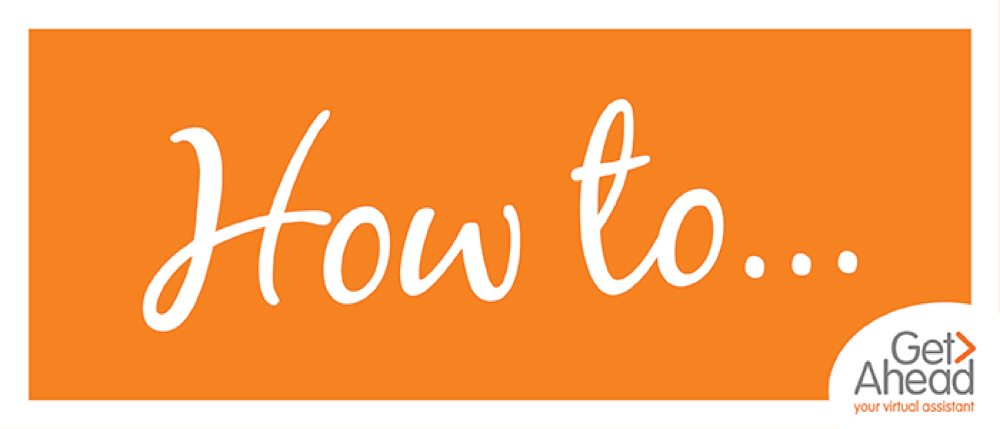 We are really excited to introduce you to our new email newsletter. Each month we will be asking our readers to ask us a question that they have not got around to finding the answer to.
This month one of our contacts asked us….'How do you set up a webinar?'
So here goes…Carrie one of our Marketing Specialists explains how do you set up a webinar?
You've watched webinars yourself or seen them advertised across the web. Everyone is talking about them and you would like to give one a go.
It just seems like far too much trouble and you don't know where to start. There's the huge cost and research to be done into creating one and hosting one!!!
I promise you, it is affordable, easy and you will be able to do it, I'm here to help you!

There are many reasons why you should run a webinar, I won't go into too much detail about that here as I want to focus on how to host one but some key points to consider are:
You create a relationship with your clients and prospects – watching you on a live camera is the next best thing to seeing you in person.
You create a buzz around your ideas, services and products. They become an 'EVENT!'
You become an authority. Your clients and prospects start to see you as an 'EXPERT' in your field, they feel more confident in what you are saying and recommending they should do.
As I mentioned before you create a buzz around your company. Online events, like webinars attract traffic to your website as people want to know more. This gives you a further opportunity to convert them into a paying customer.
How to host a webinar:
So, you've done your research, know what content will be covered during your webinar, designed your invite, published it on your website, promoted it via social media…but hang on a minute, what do you do next?
There are plenty of options in terms of software to host your webinar:
Skype. …
GoToWebinar. …
Cisco WebEx. …
Adobe Connect. …
MegaMeeting. …
ReadyTalk….
All of them have their pros and cons, with many of these the con that puts people off is the cost.
However, there is now an answer to all your troubles…all you need is a Google account. If you don't already have one, you can set one up via https://accounts.google.com/signup?hl=en.
Once you've setup and signed in to your Google account, go to YouTube, this is where Google Hangouts on Air are now hosted from.
Click on 'upload' in the top right hand corner.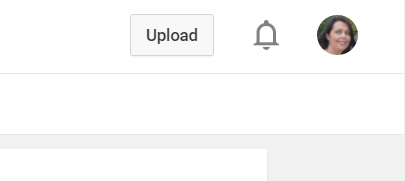 Next select the live streaming button.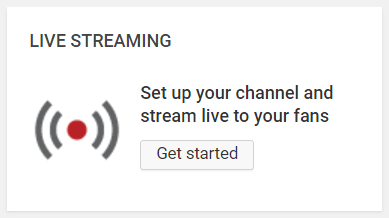 On the left panel, click 'events'.
You will then have to verify your account, follow the steps on screen.
Create a live event:
The next step is to complete the basic info tab:
Title, description and tags
Enter Start and End times
Privacy Settings:

Public – Anyone can see and access the event.
Unlisted – The event isn't shown publicly but anyone with a link can join.
Private – Only people you specifically invite can join the event. You can share the event with a domain, group or individual.

Category
Type: Select Quick to launch Hangouts on Air. Select Custom to use custom encoders and controls. (Select Quick – do not worry about Custom at this stage.)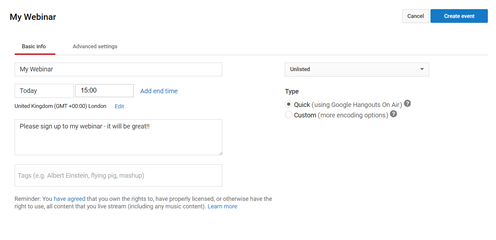 Click 'Create Event'.
And that's that, you're all set!

There are many options within the 'Hangout' itself, including the option to share your screen.
If you click on 'Start Hangout On Air', it will give you the option to share the link with attendees or email attendees directly from within the screen.
Why not give it a go, just be sure to test everything out with a friend or colleague first before you go live.
If you have any further questions about hosting a webinar or any other marketing or business admin question that you really can't find the answer to then please get in touch and we will answer your question in one of our future email newsletters.
Find out more about our services or call 01483 332 220 to discuss in more detail.
---
---