Five ideas for marketing a "boring" business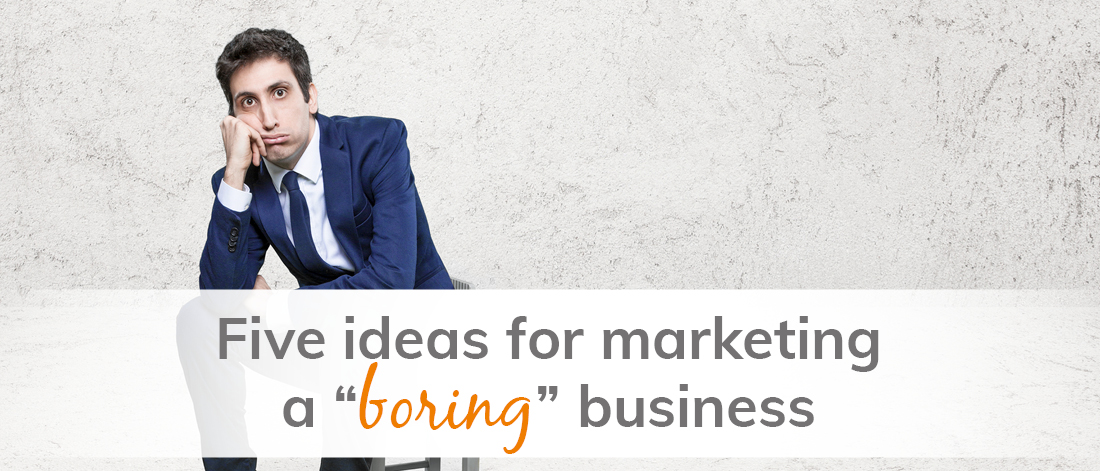 The first thing we want to say is that we don't believe your business is boring. You don't believe your business is boring. Numbers, letters, spreadsheets or cleaning products may not ignite everyone's passion but they certainly ignite yours. Maybe that's because you can see how important they are for keeping businesses open; maybe it's because you can see there's money to be made.
However, when it comes to marketing, you might not know where to start. But help is at hand! Read on for five ideas for marketing your "boring" business.
Find your USP
Your USP is your unique sales proposition, or unique selling point. It's what you offer that other firms in your industry don't. Unfortunately, the problem you might face is that you don't do anything different from the other bookkeepers, proof-readers or delivery companies in your area.
However, while you don't do anything different, your ethos might be different, or your market might be different. Perhaps you're an expert in finance for businesses that trade across several countries. Perhaps you're the only local logistics company that uses electric vehicles, or you offer a training scheme for ex-offenders. These are the points that set you apart from the competition – make sure you include them in your marketing messages.
Promote benefits, not services
If your business doesn't have different services from other firms, you can't really market them! Instead, focus on the benefits you provide to your clients and customers. What problems do they face and how does your business solve them?
Be human
Bringing some emotion to your marketing always makes your business sound warmer and more human. A faceless accountancy firm will have less appeal than one that sounds like a nice group of people who know their stuff and take away clients' finance headaches.
You can bring some humanity to your marketing by sharing pictures of your team. You can also write in the first person, and include words that convey feelings. For example, "we love providing editing services to small businesses," sounds more friendly than, "Acme Editing provides a service to small businesses." Remember, friendly doesn't mean unprofessional.
Social media is a great opportunity to be authentic. Its immediacy lends itself to sharing a quick video of your office dog, or a photo of those gorgeous flowers from a grateful client. Upload a picture of you giving a presentation and run a caption competition.
On-brand messaging is important, but never forget that people buy from people. Authenticity matters.
Share testimonials and case studies
Show potential clients how your business works for real people. It can be hard to choose a business when it offers the same service as its competitors, but when your audience reads about your business in action, they might relate to the case study or testimonial and decide to do business with you.
Create content around your industry as well as your business
When you're blogging, recording videos or creating social media posts, you don't have to focus entirely on your own work. Accountants might write a blog about getting ready for the end of the financial year, but you could also share your views on the Chancellor's latest budget, or talk about some new software you're trialling. This shows your audience that you think three-dimensionally, and understand how your business fits into the bigger picture.
Outsource your marketing
The marketing team at Get Ahead support all kinds of businesses, helping them grow and attract the right clients. To find out how we can help you market your business, get in touch today on 01483 332 220 – we'd love to hear from you.
Find out more about our services or call 01483 332 220 to discuss in more detail.
---
---