Financial benefits of outsourcing for small businesses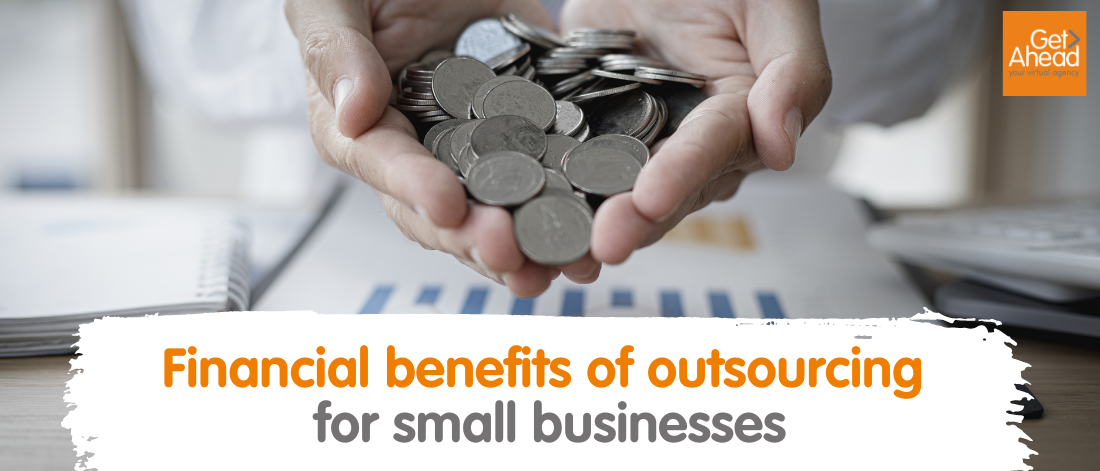 Small businesses don't always have the same financial security that a bigger business has. This can make expansion difficult, and leave business owners struggling. Without the means to pay more staff, or the security that they can keep on paying wages, some business owners are thinly spread and unable to take their business to the next level.
Fortunately, outsourced business support is an affordable, flexible solution that enables business owners to access cost-effective support they can turn on and off as required.
Let's take a closer look at the financial benefits of outsourcing.
Only pay for work completed
One of the main differences between outsourcing work and getting an employee to deliver it for you is that, with outsourced work, you only pay for the work completed. For example, you might agree that a remote worker will spend three hours a month checking your social media and responding to comments. You might ask a copywriter for two blogs per month, or ask an admin expert for a regular reconciliation of invoices. When this work is done and you've approved it, they invoice and you settle it.
This is quite different from employing someone permanently. Did you know that the average employee is only productive for about 60% of their time at work? Employees might technically be "at work" but might also be, say, making a doctor's appointment, watering the plants or just having a chat. Those things are important, but it's a shame to have to pay for them when all you wanted was your spreadsheet updating.
Only paying for work completed means your business can be more flexible too. If the amount of work you need (or can afford) changes, you can simply pay for more or fewer hours. With outsourced work, you don't risk losing out financially on staff pay in a quiet month. And if you're having a busy period, you don't have to worry you're overworking your staff.
You're not responsible for employee benefits
Pensions, sick pay, appraisal schemes, holidays, office space – these are all expenses that come with an in-house employee. But when you outsource, your remote worker is self-employed and there's no need for you to pay out for employee benefits.
This lowers your outgoings, meaning that you have more flexibility to choose how you invest your profits.
Adjust your team to fit your changing needs
When you're running a small business, you don't want to be restricted by the size of your team. Outsourcing creates the flexibility to expand or reduce your workload. It also frees you up to change direction – you don't have to be limited by what your in-house team can deliver.
Get Ahead – a financially flexible option for small and growing businesses
Get Ahead have been supporting businesses of all sizes since 2010 and our fifty-strong team of virtual experts deliver a wide range of services. The number you use depends on your needs and budget, and we'll never tie you into an expensive contract. Rebecca Newenham created Get Ahead to create flexible opportunities for business experts, at the same time as providing flexible solutions for business owners. We've proved that our flexibility model works for us – let us show you how it can work for you too. Contact your local regional director today to find out more.
Find out more about our services or call 01483 332 220 to discuss in more detail.
---
---