Eleven tried and tested ways to run a better business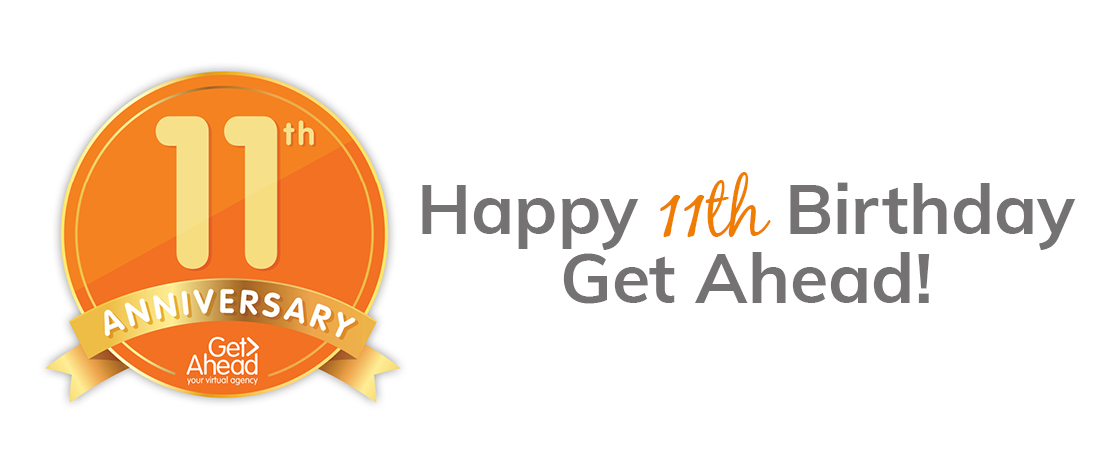 Happy birthday to us! Get Ahead turns eleven this autumn and we are so proud of how far we've come. Of course, we don't just want to keep our success to ourselves.
Here's what we've learned in the last eleven years – we hope our experience will help you too!
Go business networking
Networking has always been a huge part of building our business. We have found that regular attendance at networking events, coupled with a generous attitude and desire to help others, has made networking work for us.
We've also approached it strategically, connecting with people who might be able to launch other opportunities for us as well as meeting people with whom we can work directly. Get Ahead is now a long-standing member of Connect Surrey, and Rebecca Newenham leads LinkedIn Local Guildford.
Learn more about business networking here
Exhibit at business expos
Get Ahead has always been a regular exhibitor at business expos up and down the country. Sometimes we've attended to attract new clients and develop our own business; sometimes we're there to build awareness of our brand. We even sponsored a panel at the Grow Your Business Show this month.
Expos present countless opportunities for businesses looking to expand. With a thoughtful, strategic approach you should see some great results! We wrote this blog to help you too.
Engage with social media
Social media should be social! We've found that by allocating time to it, choosing the right platforms, posting consistently and resisting the urge to broadcast, it's helping us grow our business and attract the right clients.
Here's our blog on why you should be consistent on social media
Be consistent with branding
Rebecca set up Get Ahead to provide quality work and flexible opportunities – two missions that were essential to the brand at the outset and remain our core values eleven years on. This means we've been able to be consistent with our branding, which in turn has made it more powerful.
Find out more about staying on-brand here.
Build a professional network to be proud of
Get Ahead is a team of virtual experts, and we also tap into the knowledge of our clients and wider business family. It's helped us attract great team members and helped us establish our reputation among local business communities too.
We are delighted to have built strong links with the British Franchise Association – we even made a video together!
Delegate!
We've learned that delegation creates higher quality work and more time for business development. We often have an in-house expert we can delegate a specific task to. Delegation is also a lot less stressful than trying to get everything done yourself.
Overcome your fears of delegation here!
Empower your team
The Get Ahead team all understand what they bring to the business. Their sense of empowerment and ownership generates good work and great outcomes for clients and Get Ahead alike. We've done this through communication and celebrating success, and always including the human touch if we can.
We've shared some of our ideas for celebrating the team here.
Scale your business
Rebecca always wanted to expand Get Ahead, and actively researched ways to move forward and grow the business. After careful groundwork, she took on our first franchisee in 2017 and now has ten franchises across the UK and one in Australia.
Find out more about our franchise opportunity here.
Be flexible
Flexibility is our watchword at Get Ahead. Get Ahead was created to offer flexible working to business services experts, but we've embraced it in other areas too. Thus we were resilient during the pandemic, and open to new ideas as the business grew. It's worked for us – we're sure it would work for you too.
Read our guest blog on flexible working here.
Take breaks
We all need breaks for our own wellbeing. Working "all the time" isn't realistic or healthy, and frequently affects productivity. Recognising how much better we work after a day off was a real lightbulb moment…and the key to achieving long-term business goals.
Still not convinced? Have a read of our blog about taking time off.
Keep the competition in proportion
We all need to be aware of our competitors, but they shouldn't distract us or dominate our working lives. Continuing in our own lane of the motorway has allowed us to focus on what we're good at, driving towards our current goals and developing our business in the best way for us.
Keep your focus with clear business goals.
Get Ahead couldn't have done it without the support of all our amazing clients and virtual experts! A huge thank you to you all…and here's to the next eleven years!
Find out more about our services or call 01483 332 220 to discuss in more detail.
---
---