5 apps for organising meetings during December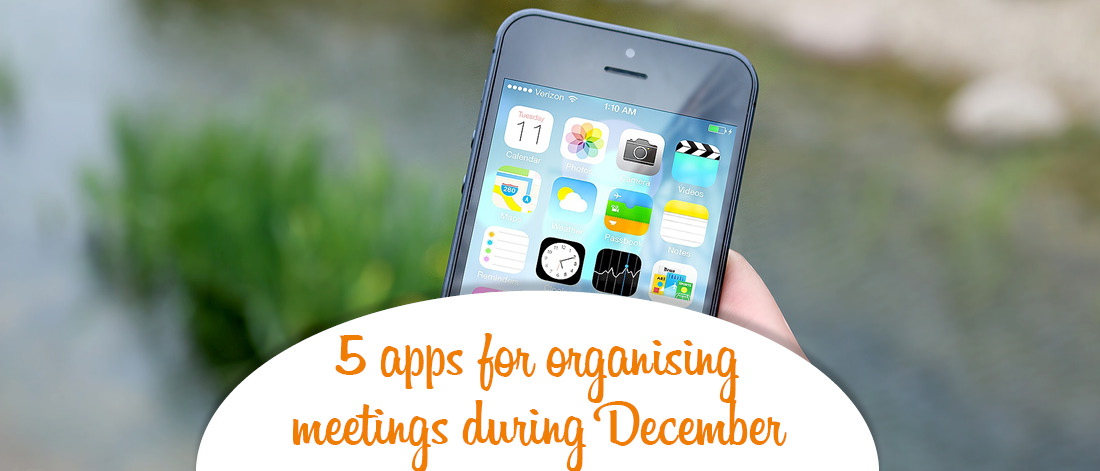 December is a tricky month for meetings. At the height of the holiday season there's no guarantee that you'll be at your desk – or even in the same city as it – so how can you continue to stay in touch with your employees and your clients throughout the disruptions of Christmas?
To help you out during this busy month, our virtual assistants have shared some of their favourite tools for staying connected on the go. Here are 5 of our favourite apps for organising meetings during December.
Zoom is an extremely popular video conferencing platform that lets you join or host a meeting on any device, wherever you are. As well as allowing for multiple screen sharing, HD video and real-time content sharing, Zoom also lets you record your meetings so those who couldn't take part can catch up later. Schedule your Zoom meetings through Outlook, Gmail or iCal and connect with your clients wherever you happen to be.
Like Zoom, Skype is a video-calling platform that allows to you to speak to and share video with multiple users at once – perfect for that important last-minute meeting. With Skype you can live chat, record your conversations, share your screen and even make calls to landlines around the world. It's free to download, although you will have to pay for extra features such as international calling.
If you've ever tried to solve a computer problem for a client from the other end of a phone, you know it can be a very painful process! Chrome Remote Desktop provides a handy solution by allowing you to gain access to a computer remotely, so you can help your client, without the headache. You can use the app temporarily to carry out short jobs, or you can install it on your main work computer to access all your files remotely – particularly useful if you'll be away over Christmas.
Doodle is a very simple program that makes scheduling meetings a breeze. First, make a meeting request and suggest some times, then invite the participants and wait for them to share their availability. When everybody has responded, pick the time that works best and schedule it in. Doodle is a clean, intuitive way to organise meetings with just a few clicks of a button – perfect if your calendar is beginning to fill up.
If your phone is packed with apps and you're starting to feel a little overwhelmed, Zapier has the answer. This app can link together your other apps and pass information between them, essentially automating your entire workflow. For example, it can read a meeting appointment from your Google calendar and automatically start a video conference when it's due to begin. Zapier connects to more than 1,000 apps, so you can be more productive while the app takes care of the annoying legwork.
---
Do you need some extra help over the Christmas period? Get Ahead VA's virtual assistants offer professional business services, such as administration, telephone answering and social media promotion, so we can take some of the weight off your shoulders. If you're interested in any of our services, please give Get Ahead VA a call on 01483 332220 or email us at office@getaheadva.com. We pride ourselves on being the staff you don't see, but the difference you do.
Find out more about our services or call 01483 332 220 to discuss in more detail.
---
---